Supporting DEI Initiatives

Aligning with the district, awarding district, building and teaching grants that promote diversity, equity and inclusion throughout our schools

Support for Remote Learning

FSAS has given over $25,000 to provide local families with reliable internet access during the pandemic.
Upcoming Event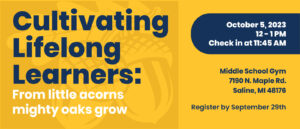 Fall Luncheon 2023
October 5, 2023 at 12:00 pm
7190 N Maple Rd, Saline, MI 48176
In The News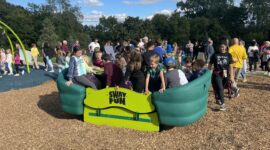 Pleasant Ridge All-Inclusive Playground Ribbon Cutting
The Foundation for Saline Area Schools is a non-profit organization that provides private funding to support academic projects, enrichment programs, and other activities aimed at enhancing the quality of education in the Saline school district. The Foundation rewards excellence and innovation through distribution of individual teaching grants and funds for district wide strategic goals. Grants distributed by the Foundation serve as seed money for educational initiatives that cannot be funded by the general budget.
Our Impact
Over 30 years supporting the children of Saline Area Schools
Students Supported
20,000
Our Sponsors
A special thank you to our sponsors of the week! We love and appreciate all of our sponsors.
The Foundation for Saline Area Schools has done more than just provide funding for updating our books for our third graders. They have provided an opportunity for students to have mirrors to see themselves in their books and windows into the lives of others. This has been crucial in not only fostering student engagement in reading, but also in empowering students and teaching empathy and compassion

Nicole Toth, Harvest Elementary Teacher

The Mental Health Accessibility Grant impacted students who would not have been able to access this service on their own. Providing the support to them was tremendously impactful to their lives, especially during the time of COVID.

Michelle Monahan, SHS Counselor

The Foundation's support of STEAM activities in the school district give the children the skills they will need to be the next generation of innovators and problem solvers. Thanks, FSAS!
A Special Relationship
Our Alignment with SAS
The alignment between The Foundation for Saline Area Schools and the district we support is a special and integral part of how we operate. For example, The Foundation uses the same 8 learner attributes from the SAS Compass to guide its grant making activities as the district uses to guide the development of each and every student.
Our sponsors and donors are who makes it all possible. You can support the Foundation and its mission.