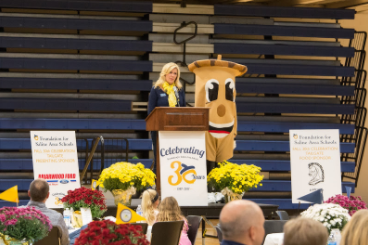 To honor the 30th year of the Foundation, the annual Fall Kickoff was a Celebration Tailgate and Fair that took place on October 13th at Saline High School. At the tailgate, attendees heard from Ellen Ewing, former SAS Superintendent and recent Hall of Fame inductee; Superintendent Scot Graden; Reid Paxton, current trustee and son of FSAS founder, Bruce Paxton; and FSAS President Katie Murphy. The Foundation's past, present and future was highlighted to show how the Foundation has positively impacted the school and community for over 30 years.
Presenting Sponsor Briarwood Ford and Food Sponsor Knight's Restaurant were generous partners for the celebration. For the second year in a row, Steve Whitener, owner of Briarwood Ford, awarded a check of matching funds up to $5,000 for the FSAS 2017/18 campaign.
Following the Tailgate, the auxiliary football field was the site of a fair with dunk tank, inflatables, games and more for children of all ages. The event attracted more than 500 people!